The port of New Haven, at the mouth of the Quinnipiac River in eastern Connecticut, was founded by English Puritans in 1638, and has been famed since 1716 as the seat of Yale University. On the campus are several interesting attractions, among them the outstanding Yale Peabody Museum of Natural History. The campus includes many of the most popular places to visit in New Haven.
The many programs, concerts, and events at Yale also add to New Haven's vibrant arts scene, which includes a variety of theaters, a symphony, and a popular summertime jazz festival that adds to its appeal for tourists. In addition to sightseeing, explore the numerous parks and natural areas around the city; families will find plenty of things to do in East Rock Park and Lighthouse Point Park.
Discover the best places to visit with our list of the top tourist attractions in New Haven.
See also: Where to Stay in New Haven
Note: Some businesses may be temporarily closed due to recent global health and safety issues.
1. Yale University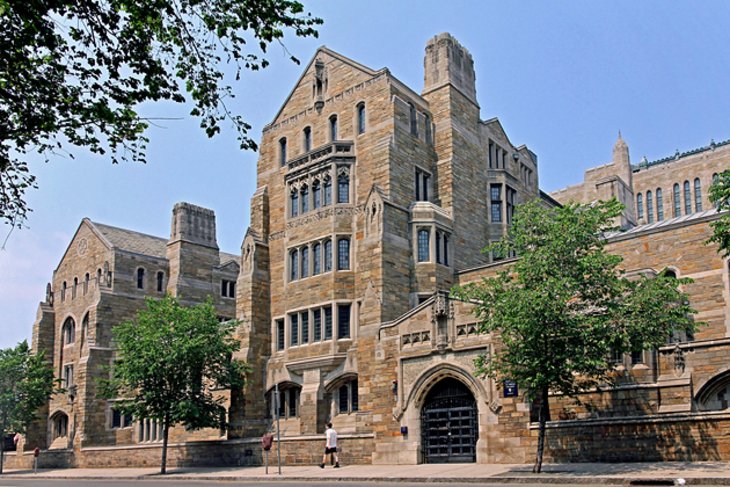 Yale University has a long history, which began to some extent in the 17th century, although the school was not actually in existence until the early 18th century. Visitors can take a tour of the campus and learn all about the institution and its buildings, some of which were designed by prominent architects, such as Eero Saarinen's revolutionary Ingalls Rink and his 1962 Morse and Ezra Stiles Colleges. Frank O. Gehry designed the Yale Psychiatric Institute in 1989. Older buildings on the campus are mainly in the Gothic Revival style.
On the university campus are the Peabody Museum, the Art Gallery, the Sterling Memorial Library, the Center for British Art, and the Beinecke Rare Book and Manuscript Library, as well as several lesser-known collections, including one of rare musical instruments and another tracing advancements in brain research over the last century.
The visitors center has a video and historical displays; free student-led campus tours are offered each morning.
Address: 149 Elm Street, New Haven, Connecticut
Official site: http://www.yale.edu/
2. Yale University Art Gallery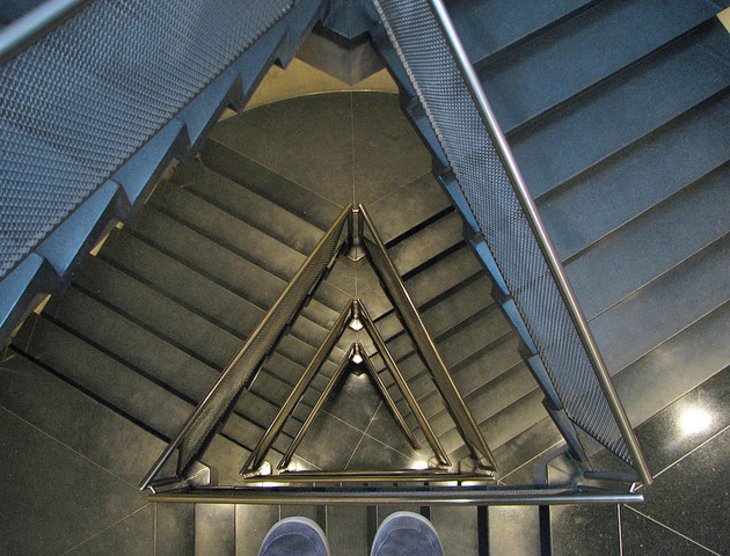 Yale University Art Gallery was established in 1832 and is the oldest university art museum in the United States. The extensive collections are especially strong in art from the ancient Mediterranean world, which includes more than 13,000 objects. African art comprises nearly 2,000 objects, and art from the ancient Americas about 1,500.
American painters and sculptors are represented by works of John Singleton Copley, Albert Bierstadt, Frederick Remington, Winslow Homer, Augustus Saint-Gaudens, George Bellows, John Singer Sargent, Edward Hopper, and Alexander Calder.
Other exhibits feature American decorative arts and furniture, especially pieces of New England origin. There are also changing exhibits from a huge selection of master prints, drawings, and photographs.
Address: 1111 Chapel Street, New Haven, Connecticut
Official site: http://artgallery.yale.edu/
3. Yale Peabody Museum of Natural History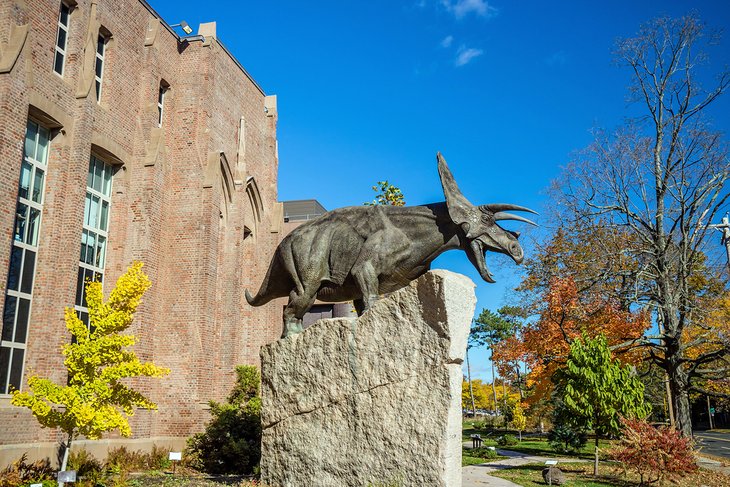 The Peabody Museum of Natural History at Yale University features exhibits on biology, paleontology, botany, geology, and anthropology. Permanent attractions include the Great Hall of Dinosaurs, the Hall of Native American Cultures, Hall of Minerals, Hall of Mammalian Evolution, Earth and Space, and Birds of Connecticut.
Housing part of Yale's large Egyptology collection, the Daily Life in Ancient Egypt gallery includes a mummy and coffin, a granite Head of Osiris, and the black diorite Bust of a Ptolemaic King. In the Hall of Native American Cultures are more than 300 objects ranging from tools and clothing to pottery and baskets.
The dinosaurs and ancient Egyptian exhibits are great favorites with children, making a visit to the museum a popular thing to do for families.
Address: 170 Whitney Avenue, New Haven, Connecticut
Official site: http://peabody.yale.edu/
4. Yale Center for British Art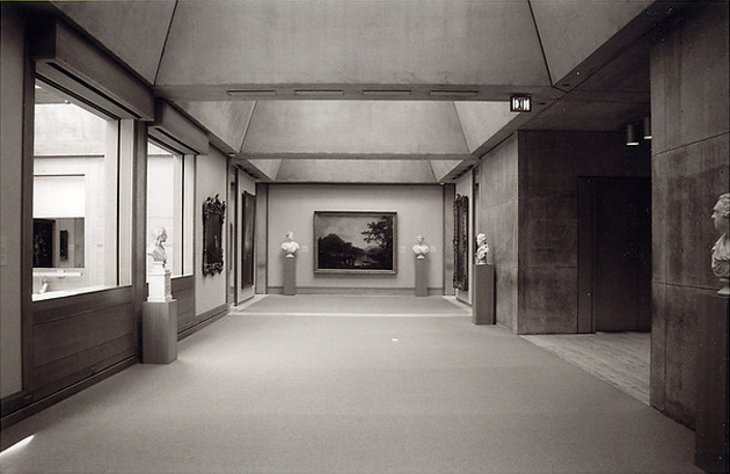 The Yale Center for British Art displays British paintings, drawings, prints, sculptures, photographs, and other pieces, from the Elizabethan period to the modern day, in the most comprehensive collection outside the United Kingdom.
You can see works here by Constable, Gainsborough, Hogarth, Joshua Reynolds, and Barbara Hepworth, in a collection that traces the development of British art and culture from the Elizabethan period to the present. In addition to works of art, the center has a collection of 30,000 volumes of rare books.
Also displayed are works by Whistler and Canaletto, neither of whom were British, but were active in Britain and painted British subjects.
Address: 1080 Chapel Street, New Haven, Connecticut
Official site: http://britishart.yale.edu/
5. Beinecke Rare Book & Manuscript Library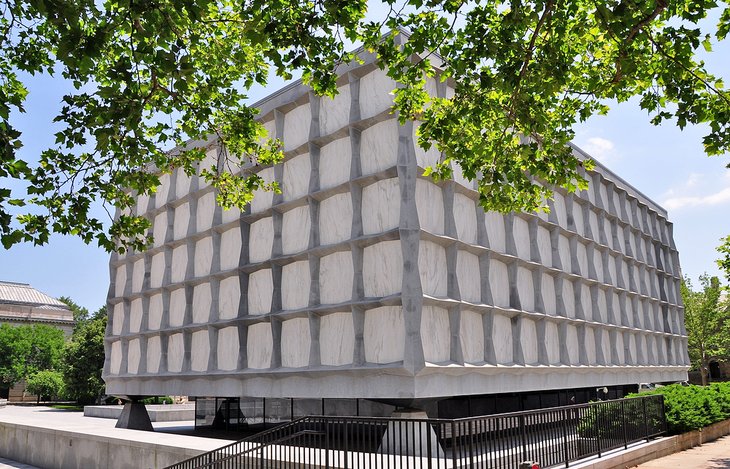 Holding one of the world's largest and richest collections of rare books and manuscripts, Beinecke Library includes ancient manuscripts, writings on papyrus, maps, the personal papers of writers, and archival materials.
There are early books printed in Japan, China, and Korea before 1800; books printed in America pre-1821; and newspapers and broadsides printed in the United States prior to 1851. Thousands of books and other historic printed material are added each year, and the collections are available through the Digital Library of more than a million images.
The library's best-known treasure is a Gutenberg Bible, the first Western book printed from movable type. It is permanently on display, along with John James Audubon's Birds of America and a collection of the earliest printed books in the West, from before 1500.
Address: 121 Wall Street, New Haven, Connecticut
Official site: https://beinecke.library.yale.edu/
6. East Rock Park and Pardee Rose Gardens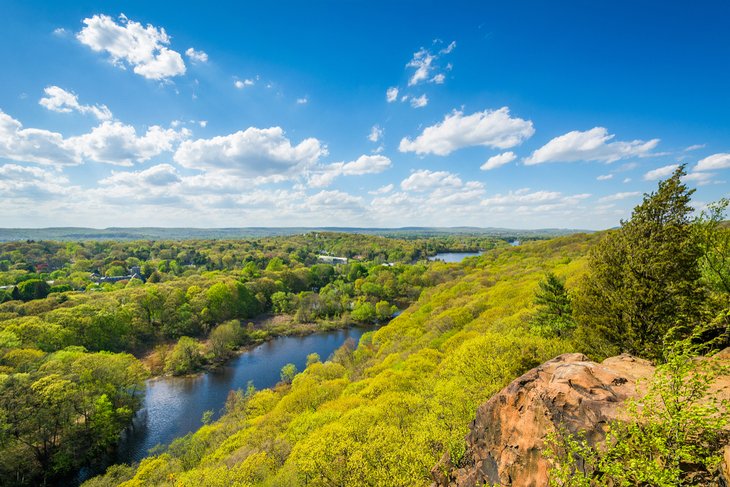 About 20 percent of New Haven is devoted to open or green space, and one of the favorite places to go on a nice day is East Rock Park. Covering 425 acres, it includes a 365-foot-high, 1.5-mile-long rock. From its top are sweeping views of Long Island Sound and New Haven. This is one of the most beautiful places to photograph in New Haven.
Inside the park, Pardee Rose Gardens display a continuing succession of blooming flowers through the entire growing season, but the peak is during June and July, when more than 50 varieties of roses are in full bloom, one of New England's finest rose displays. The Pardee Greenhouse is beautifully restored.
Also in the park are the Civil War Soldiers and Sailors Monument and Indian Head Peak, as well as playgrounds; picnic areas; and more than 10 miles of trails for joggers, walkers, and cross-country skiers.
7. The Green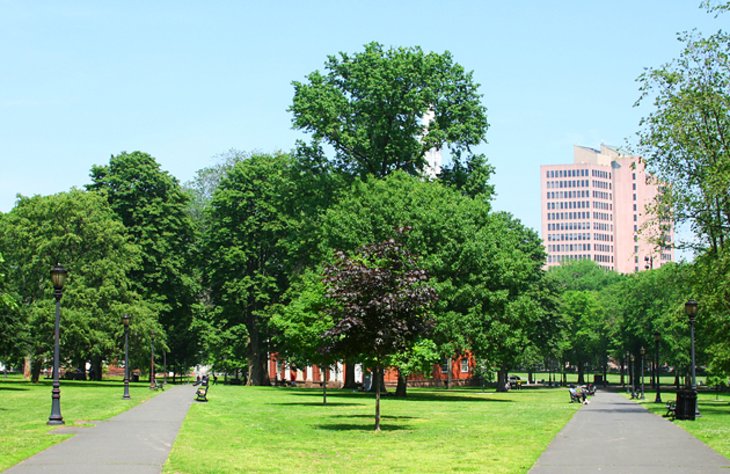 In the center of the city, The Green is an urban park covering 16 acres. Three historic churches dating from the early 1800s – Trinity, United, and Center Church on the Green – face Temple Street, inside the park. The Green, which is a National Historic Landmark, was part of the original Puritan colonists' layout for the city, and a cemetery of early graves is in the crypt beneath Center Church.
Music on the Green, New Haven's outdoor summer concert series, brings top musicians to New Haven Green for evening concerts.
Address: 165 Church Street, New Haven, Connecticut
8. Knights of Columbus Museum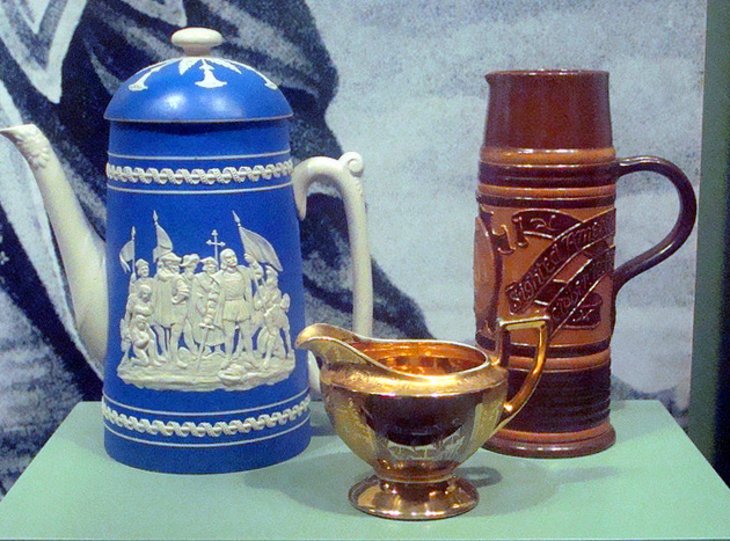 The free Knights of Columbus Museum offers displays on the history of this fraternal order, which was founded in the basement of St. Mary's Church in New Haven in 1882. The distinctive modernist building, which celebrates its 50th anniversary in 2020, was designed by architect Kevin Roche.
Changing exhibits relate to various historic and social themes, and each December and January, a special exhibit relating to Christmas often includes priceless crèche sets and figures, as well as the museum's own nativity scene, designed by Florentine artist Eugenio Pattarino.
Address: One State Street, New Haven, Connecticut
Official site: http://www.kofcmuseum.org/en/
9. New Haven Summer Jazz Festival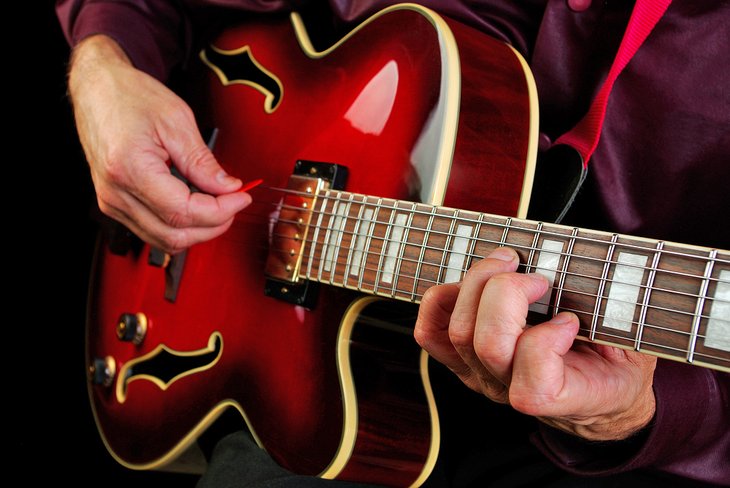 Throughout the summer, the City of New Haven's Department of Arts, Culture & Tourism, Jazz Haven, and various music venues present a series of events celebrating the diversity of jazz music and culture in the city.
Various institutions, including the New Haven Museum, the Pardee-Morris House, the Creative Arts Workshop, and the Neighborhood Music School host concerts, several of which are free. Other programs and concerts are hosted by local music venues such as Café Nine and Café a Vin, as well as the regular weekend jazz brunch at the Elm City Market.
10. Lighthouse Point Park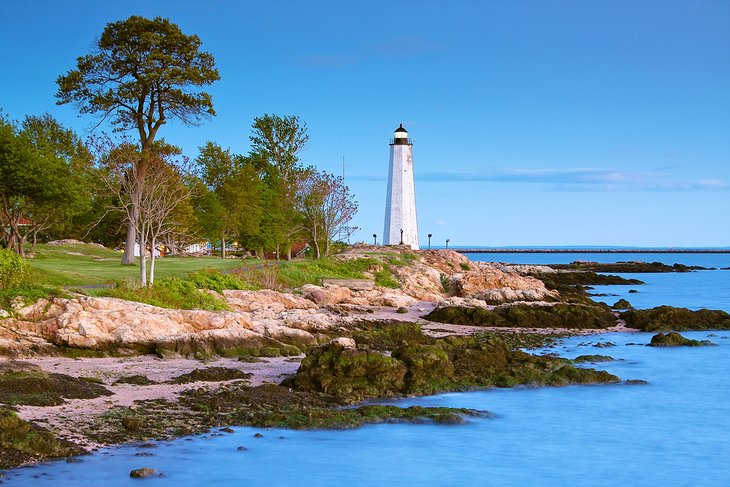 A beach on Long Island Sound, fishing pier, and a public boat launch make this a popular park with locals. Although the 1840 lighthouse is not open to the public, the surrounding park area is accessible, and picnic tables are scattered throughout tree-shaded grounds.
The lighthouse itself no longer functions, but the landmark structure adds a picturesque element to the shoreline. A playground for children and the Lighthouse Point Carousel, an antique carousel housed in a lovely historic building, make the park one of the city's most popular places to go for families.
Birders come here in the fall and spring to see the thousands of songbirds and birds of prey that stop here on their migratory route. Park rangers offer programs on migrations and ornithology.
Address: 2 Lighthouse Road, New Haven, Connecticut
11. New Haven Museum
Dedicated to the history of the city and surrounding area, New Haven Museum's vast collections are shown in four permanent galleries, plus changing themed exhibits. The fine arts collections include landscapes by local artists as well as other paintings, watercolors, drawings, and prints.
The decorative arts are represented with furniture by local 17th- through 19th-century cabinetmakers, as well as silver, glass, textiles, and ceramics. Maritime pictures and artifacts relate New Haven's strong ties to the sea as a trading port and shipbuilding center, and the Technology and Manufacturing collections include an original model and full-size working version of Eli Whitney's cotton gin and one of the first Morse code receivers.
Address: 114 Whitney Ave, New Haven, Connecticut
Official site: http://newhavenmuseum.org/
12. Grove Street Cemetery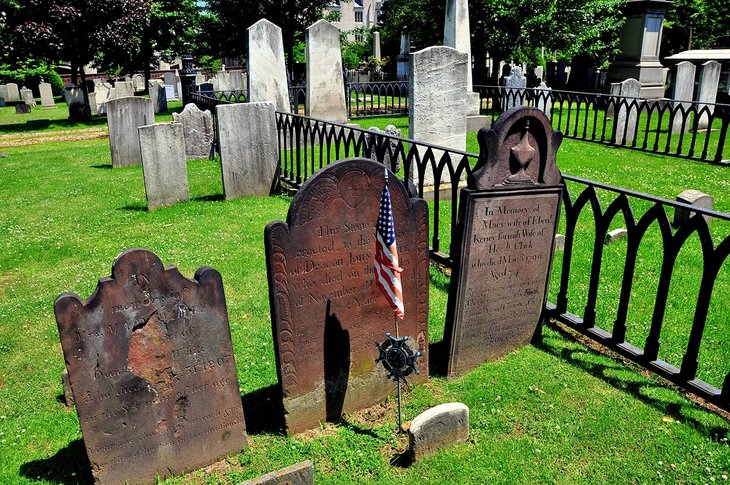 The first chartered burial ground in the United States, Grove Street Cemetery dates from 1796 and is also the first to be arranged in family lots and the first designed in a city plan with named avenues and cross streets.
The National Historic Landmark contains the graves of inventor Eli Whitney, dictionary author Noah Webster, and 14 presidents of Yale. The wall surrounding the cemetery was completed in 1845 with the construction of the imposing entrance gate, designed by architect Henry Austin in the Egyptian Revival style that was popular in the mid-19th century.
Address: 227 Grove Street, New Haven, Connecticut
Official site: https://www.grovestreetcemetery.org/